All Campaigns Work Like This:
Select a campaign to join the advertising community
Campaign earnings from all drivers on all campaigns is pooled together
Earnings are divided among all participating drivers monthly

Other Example Decals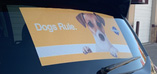 ---
Calling all dog lovers. Advertise for the most recognizable pet food brand and get paid to spread the canine love far and wide.

3 Month Campaign


---
If you can't see the ad on these cars we don't know what to say other than to call us. Somehow. Please. Advertise for the most convenient way to order and reorder contact lenses.

6 Month Campaign